The Background of My Downtown Playground


• There are two separate stories that are tied to one another in regards to "The Background of My Downtown Playground" … First and foremost, when buying a business - it is not unusual for a news reporter from the local newspaper to do an interview and place an article in the business section of the newspaper and that's what happened when I first bought Fitz drycleaners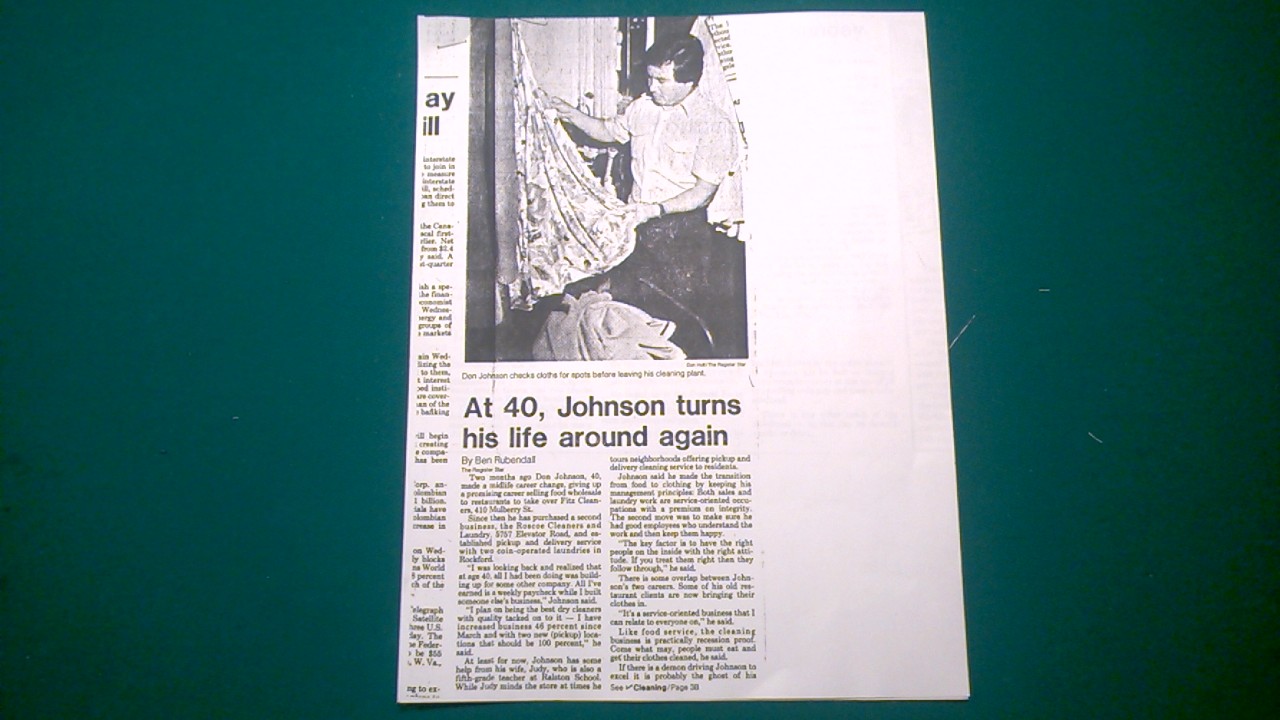 (the oldest drycleaners recorded in Rockford's history, thus an obvious selling point for me to promote for new customers) My corny slogan was → "If it's Fitz wear it" ... You'll understand the correlation between the two stories as I continue through to writing it.
• First and foremost, the main story begins with the memoir of my downtown playground involving my adolescent years between 5 through 15 years old. It was both fun, but wasn't amiable for my health ... As a wild kid roaming the streets of Laredo (So, come sit down beside me and hear my sad story and I'll beat my drum slowly and then play my life lowly) … As far back as my preconscious and the upper fringes of my subconscious come into mind and agree with my words … my Downtown was my Playground of where I grew from an adolescent into fully grown - Yet never outgrown my memory of fear of the omnipresent into my present tense.

• The story goes on with the cleaners being a block and a half away from the apartment where I lived as a child and I remember everything about it. When you walk outside of Fitz's door … You would then turn left and walk a half block to N. Church Street - turn left again and walk a block to West State Street … where I lived right on that corner above a tavern called (The it liquor store) … one of many along tavern row of approximately 5 or six blocks where my mother and Callous stepdad frequented.
• I remember everything about that apartment … It had this long flight of stairs between 20 and 30 steps … When reaching the top of the stairs – my apartment was the first apartment on the left side with windows facing both state and church streets. And immediately on the right side was a real nice lady in her 80s - Mrs. Martin's apartment. I remember her apartment as well, because she enjoyed seeing me and always gave me candy.
It is incredible as now being 71 years old today 2015 remembering that far back in time as being a child of five … The hallway was long and wide with about four or five apartments on both sides of the N. Church St. stretch of the building … And at the end - it had an exit door that led to a huge porch that ran the width of the building right above a narrow alley with barely enough room for a single car to fit through it … And of course that was where the garbage dumpsters were right outside the backdoors of the businesses .
• But the thing that I remember most about that alley is that there was a motorcycle parked right outside of a taverns back door and me and a buddy or friend - if you will - Oh, I guess we were around 11 or 12 - 5th or 6th graders at the time - Well, we decided to mischievously play with that motorcycle as if it were a toy to enjoy - and I remember that when I got on it and started messing around with it - the dog gone thing started on me - and we both ran like hell out of there - while it was running… Don't know what happened after that - hope nobody other than the owner road off with it. This proves that alleys can get you into a lot of trouble at that age when we were innocently minding your own business and being tempted like that ... After all, there wasn't any motorcycle classes in school? ... Years later, "we, my buddy and me" ran into one another at a downtown festival "On the Waterfront" where he patrolled as a police officer and we reminisced the story while having a good laugh.
• You have to realize that in those days (1950) of mostly my cement playground that - that was where all of the congestion of traffic was, being that - that was where all of the shopping was at the time … All of the major department stores were downtown such as Weise's of which is now Macy's, Pennies, Woolworth and across the street was Walgreens with a soda fountain and it had two entrances from the front (N. Main st.) to the back (N. Wyman st.) of the building - Not to mention all of the other department stores that I can't quite remember…
---
But I can remember that there were Seven-7 theaters in the vicinity of the downtown area of Rockford at the time ( The State,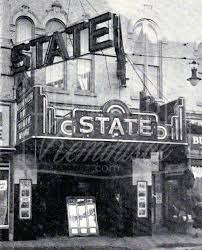 The Times,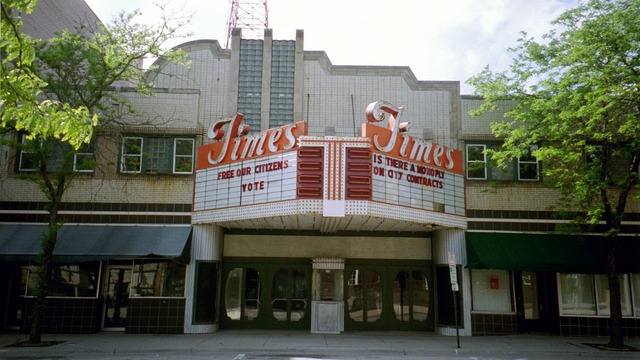 The Palace,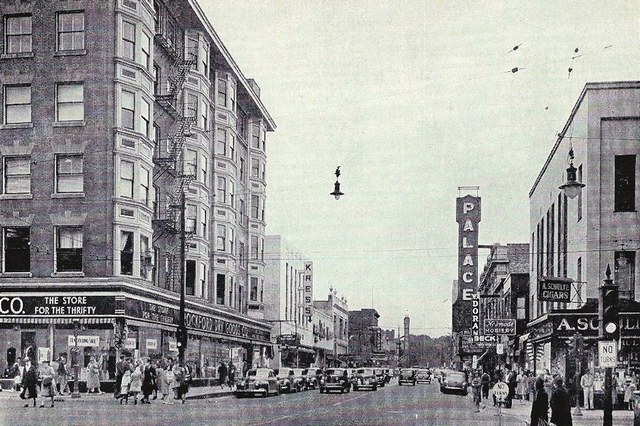 The Midway,
The Rex,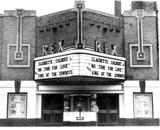 and the Capital,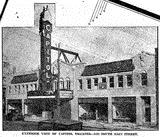 and of course, The Coronado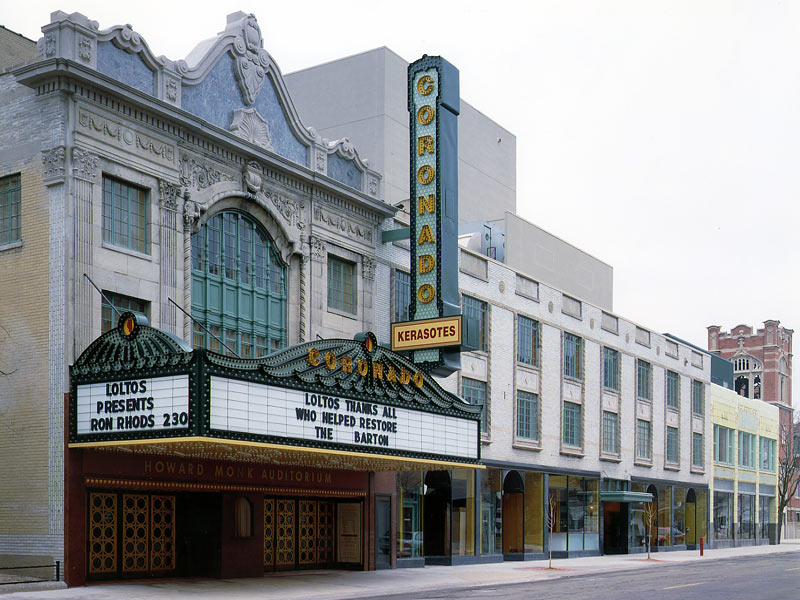 theaters) ... All gone into the infinity of Rockford's History - enlight of the suburbanites...
Sure, as being rare, the Coronado is still there, but it is no longer a movie theater - It is a performing arts center. But it is most renowned for Coronado Theatre, a civic and entertainment center that was named one of 150 Great Places in Illinois by the American Institute of Architects.

---
The following photo pictures shows the traffic as it were then - when I was between 11 and 13 years old - As you can see it was busy compared to what it is today of 2015 ...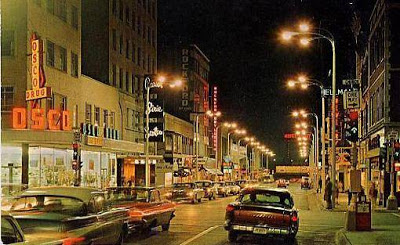 1957 - 1955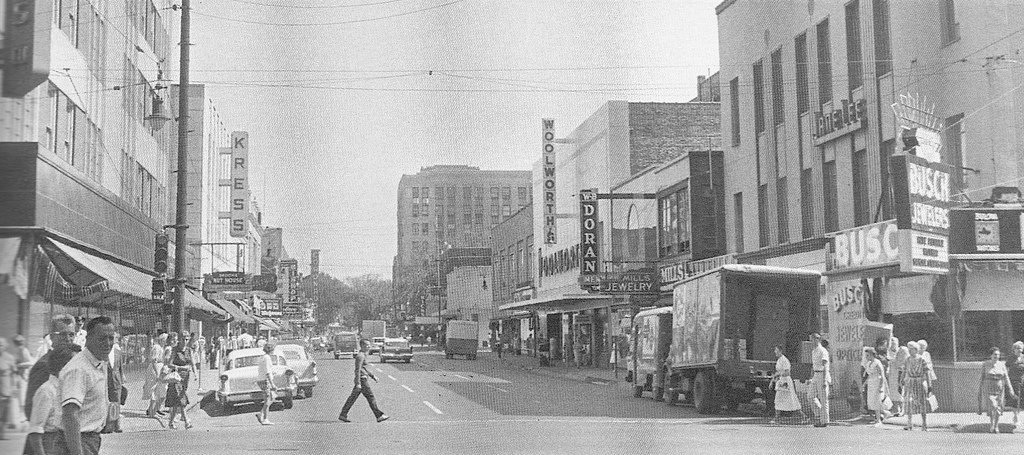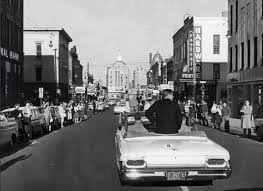 ... Now think of what it was when I was five years old and up - playing on those bustling busy streets of 1949
... You see, in those days … there was or were no such thing as strip centers and or suburban malls as such - like there are today to draw the shopping business's away from the downtown areas of cities the size of Rockford's...
↑
Yesterday Year

---
And Today "2015" it's finally Here

↓
But on the positive side of the spectrum, ... Thanks to the efforts of a "non-for-profit Transform Rockford group" http://transformrockford.org/ and http://www.rrdp.org/ things are turning around into a happening Playground for Rockfords Downtown ... Their key is with the Heart of Determination then the Mind of Ambition, Reorganization and Revitalization to Achieve the Satisfaction of Fulfillment as to the Realization into a Successful Completion ... You see, as in life, there is a Rhyme For every Reason by Design for every Season →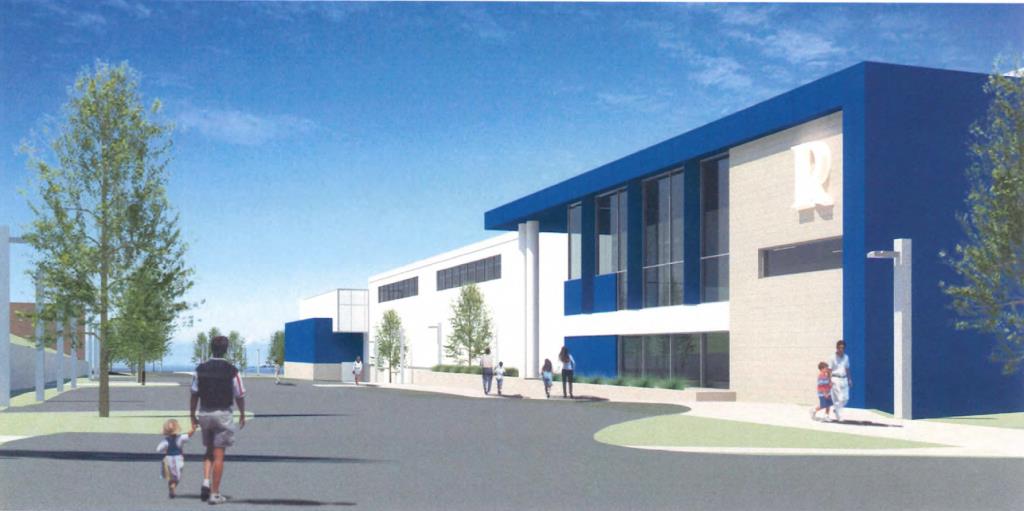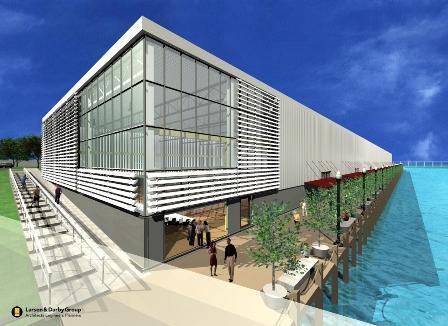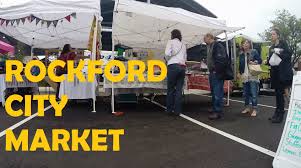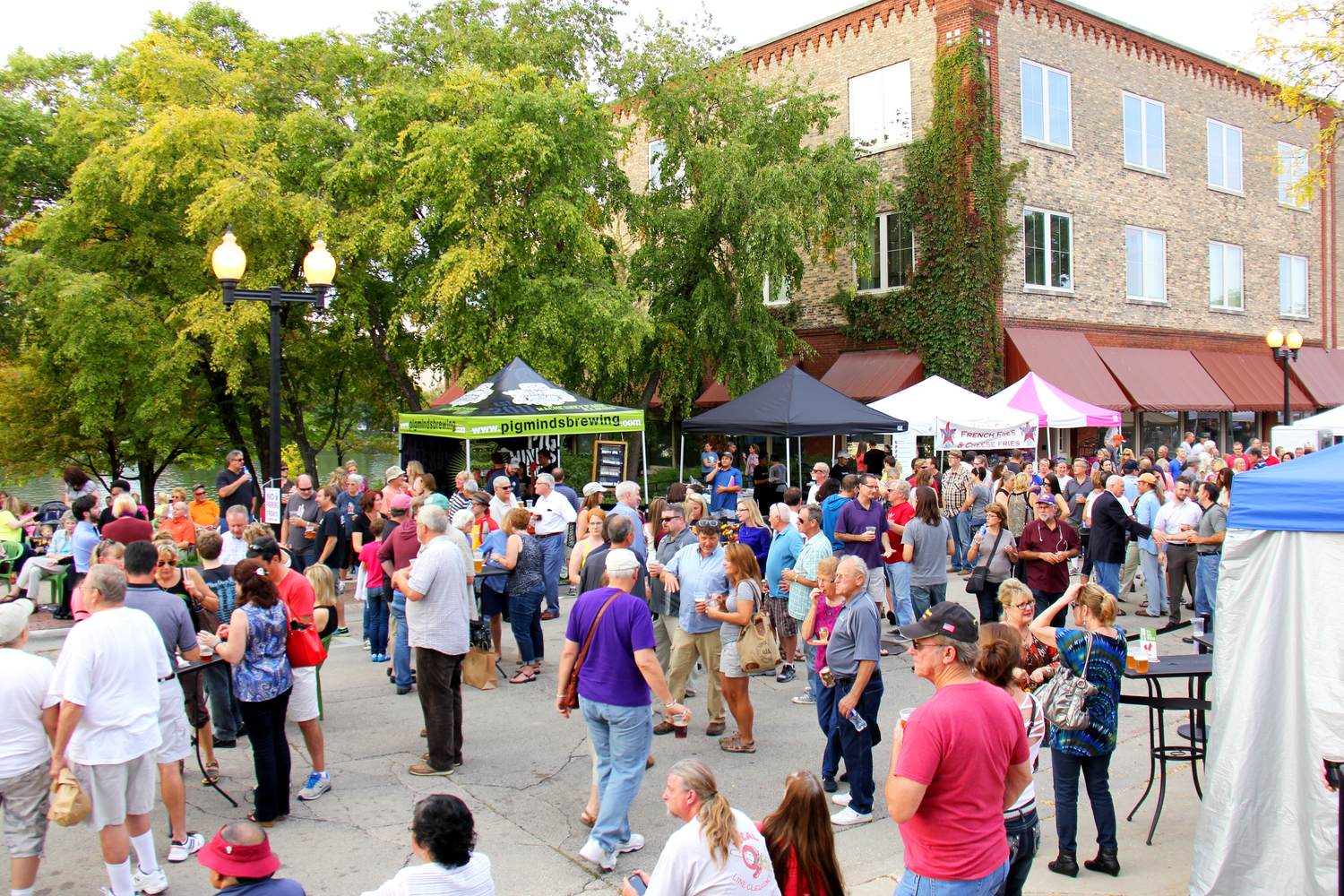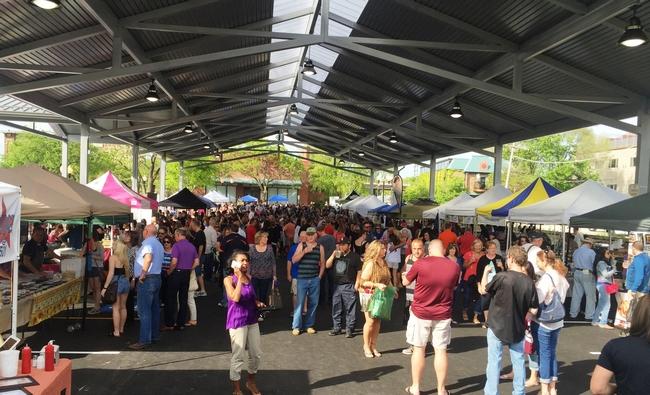 ... Rockford's Downtown Indoor Sports Complex, City market and the new Downtown - Americk/Gorman Embassy Suite ...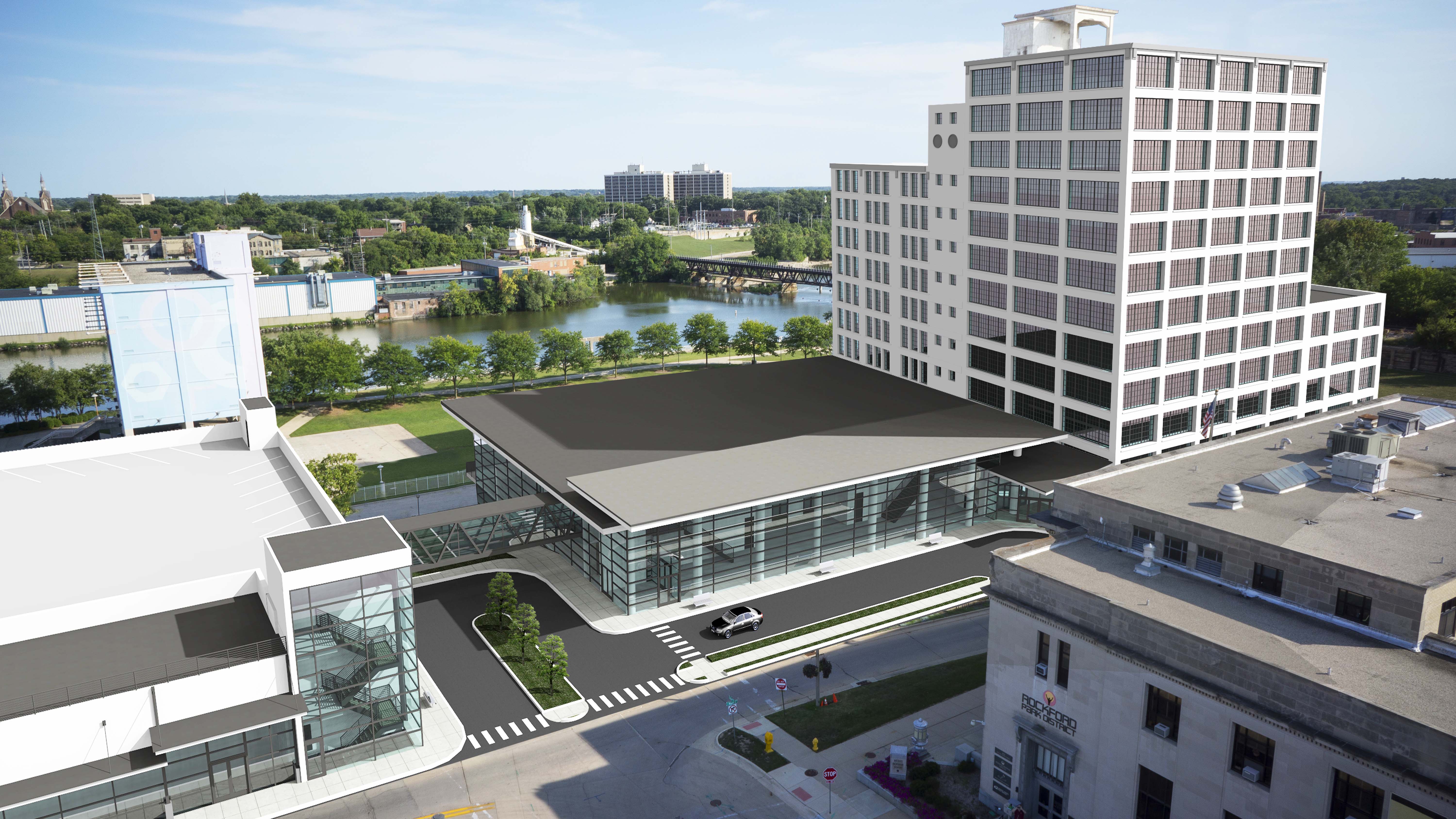 ← Front view - Rearview →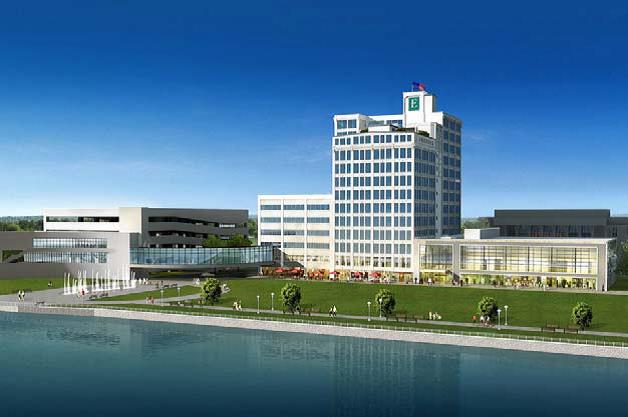 ← Tell me, how cool is all this? ... Can you dig it?

"As time flashed by - yon hither did I - still time as I feel it - let alone as I believe it -
in liew of adieu --- it depends on a few --- that do what they do

hereto - make dreams come true ".
Don L. Johnson
---
"Right back to YesterYear where my
Story continues Here"

↓
• Consider the uniqueness of the Coronado ... I also distinctly remember the uniqueness of the courthouse - along with the Coronado - it was the pride of downtown and all around … it had a two way spiral staircase … As you can see from the front view of the photo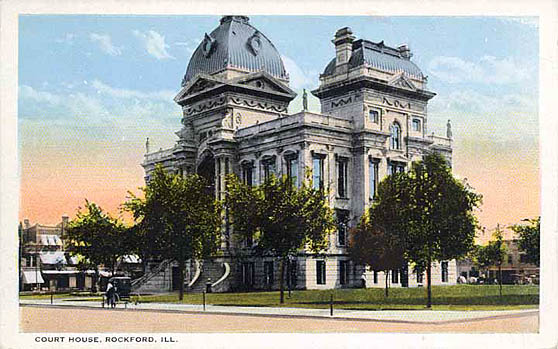 And it was of right directly across the street with a window view of it from the apartment where I lived … And of course that was part of my playground … I had fun going up and down those stairs and opening those huge doors into this huge hallway with high ceilings from the front to the newer edition of the back of the building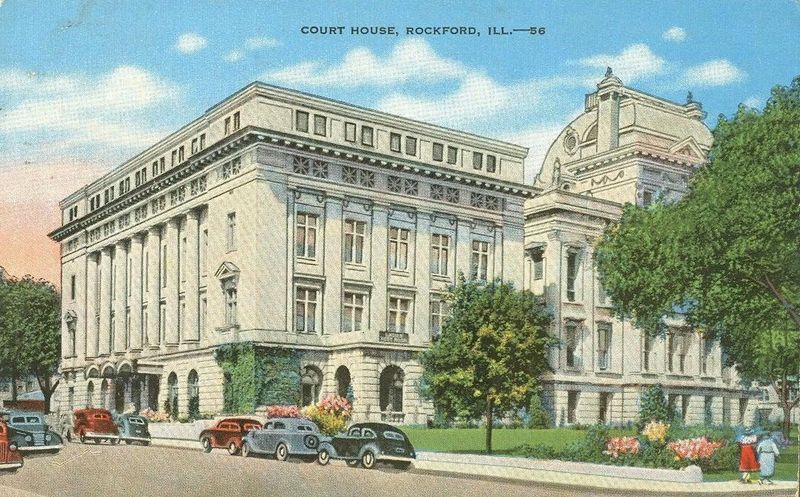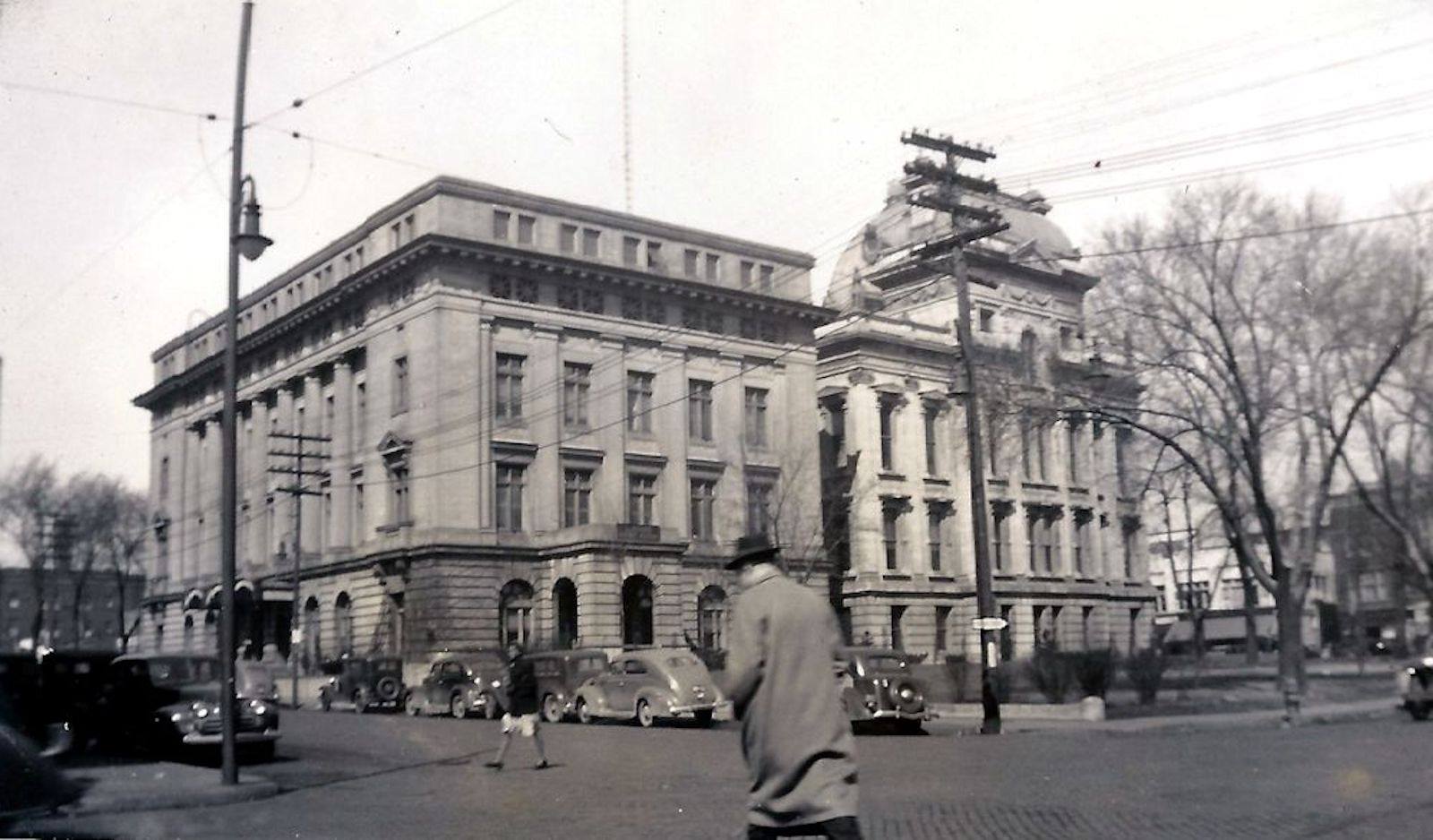 … and, OH Ya! - It did have grass with trees around it - Again, as you can see by the photo … Otherwise, you had to walk about 5 or six blocks to neighborhood houses where all the lucky kids lived.
---
• I had both good and bad memories of the city streets of my playground of five and up … It was fun because there was so much to see and do as my playground all around the streets and alleys, but it was also hazardous to my health as I was hit and run over 4
different times - by four different cars - at four different places - on those busy streets of my playground... If you enlarge the photo that I dug up out of the archives of 1953 out of the "Rockford Labor News" At that time ... The article says that I dashed into the street from the curb near his home (It wasn't a home - it was a tiny to room apartment) and hit the side of a passenger car he received bumps and bruises and was taken to Rockford Memorial Hospital for Patching... This was the last time I was hit by a car at the age of eight ... All of the other times I was even younger and those were the times were I was underneath the car and woke up in the emergency room -

I could also give you three more unexplained incidental Miracles between the ages of 12 and 20 - that you can find in my Biographical Memoirs ... As being a tiny kid of my age - I was often beat up by older kids and alcoholic adults ... You might say that my head has been athletically hardened to To withstand the hyperbole of a five-story piano drop on it or go head-to-head with bulls with the exception of antlers of course..
Now I'm either lucky or I've had a guardian angel looking out for - What say you?
• For those who never understood me, my actions and or my writings ... You see, there Is a rhyme for every reason - just as there is a reason for every rhyme of mine that I write for a catchy insight ... The athleticism of my head explains the reason why I'm so self-consciously hardheaded as outwordly expressed with my feelings … It's not possible to understand that which is so misunderstood ... It is important for me to be accepted for who I am - not for who I can't be, because of the mirrored image that's got me emotionally attached to the neglected trauma of my childhood memory - that has always haunted me ... The psychological heart of the matter - is knowing that nobody cared or wanted the responsibility of taking care of me treating me as though I was the the burden in their life ... Even though - it was those who were causing the trauma in me ... I often heard those very people with conversations about what to do with me and the money it would cost ... Thus fully fledged into the present from that child of the past tense that is now mirror in thought for the reason of feeling inferior to the normality of what a genuine loving family feels like of which has fully evaded me subconsciously.

---
• The second story - is when I got defrauded with Fitz dry cleaners 410 Mulberry St. that I bought - where it was only doing a quarter of the business that it took in according to their cooked books ... And within a couple of months after that, I had to purchase two boilers with an additional cost of $10,000 replacing them. and instead of doing the dry cleaning myself - I had to immediately hire a dry cleaner on the payroll which made it even tougher to survive without filing bankruptcy...
• I found myself depressed at a complete disadvantage in every way conceivable, it was obvious that I had to immediately go out and build the business to where it should have been just to pay the bills let alone to survive ... It took me four years without a paycheck, but I did build the business to where it was profitable enough to sell it and I might add - without cooked books ... If it weren't for my wife I wouldn't have been able to go out and get new customers to build the business, thus survive it - As she would come in after a long day of teaching and man the cash register, check out - as well as doing the books ... She was my saving grace.

• Again, as a result, I was able to use my talent and gather in new customers from a route that I had established. And at the end of each day I would stop at the laundromat that I had bought in Roscoe and count the money from the washer and dryers and the drop off dry cleaning that I established to help build the main downtown mistake of (Fitz) - then go to the bank and make the combined deposits ... The next day was another day of the same for four years - Again! until I was able to sell it to the manager of another drycleaners that I got to know... They were long arduous days, but totally necessary - as my natural selection was not to fail, thus I had to be of the survival of the fittest - Metaphorically, You might say that - Darwin got it right - with the survival of my plight -
Again routinely trapped for four years without a paycheck - believe me when I say that "Dumb is as Dumb does) and I sure did a "Dumb Dumb" thing when I bought that cleaners within the adolescence of my already Heartbroken playground! ... I sure paid the price for it - in many ways - in those days!
Anyhow, as being the survival of the fittest, just as I got myself into the mess of that business - I got myself out of it - with a little profit to go ... And as a footnote, I did it (without lying and cheating) ... And I might also add "without filing bankruptcy too" ... and to say the least - I was way beyond the definition of what happiness was and meant at that point of my life to "never play in that downtown neighborhood again"!
You know, I understand the meaning of - Martin Luther King's perorations final part of his speech for his dream to end racism in the United States ... It was also a joyous day for me to end the long plight from the captivity of that cleaners into a freedom at last - "thank God almighty" - I'm free at last!

Last but not least, this may be shocking or perhaps edifying ... It's all in the minds of the beholder ... There has been so many people throughtout my life that has yet to understood me, but how could they when I have just discovered why I've nerver understood myself? there are two sides with a beginning and ending to each story. And I have subconsciously said that I don't like or trust in people without understanding the real reason. After all, there are good and decent people that I've known where I shouldn't have thought that way with - that would have given me my chanced to rid loneliness.
When writing this - of what should have been a short memoir ... I've come to consciously realized why I haven't been able to like and or trust in people ... In the first place - If you don't have respect - you don't have love - and if you don't have love - you'll not have care - and if you don't have care ... there is nothing to share - just as I innocently came into this world at the mercy of people.
To reiterate, I came into this world as a tremendous mistake, thus not wanted, and if you are not wanted - How can you be loved? - which explains the lack of care - with nothing to share ... Point being as follows,
• How can you let a kid of five and six play in the busy streets - where the automobiles belong?
• How could you let your kid of five or six be thrown around from place to place without
knowing how your kid is being mentally and or physically treated?
• And if you have love, how could it be that you would get slaped around as a kid of five and six
to the point of having severe earaches - that led to being hard of hearing?
• How could it be that you would let a kid of five and six go hungry and lonely all day with nothing to do -
not even to play - while the irresposible - routinely comes home drunk after the bars close?
• How can a mother wed a guy that she knows is going to be mean and
cruel to her helpless child in need of care and love?
• How could any child grow up and remember such things without consciously
reflecting back a dislike and or distrust in people in general?
• It just - is what it is - which leads me to ask - how could one understand the misunderstood?
Unfortunately for me, as I grow older - I find myself - Again! at the mercy of people who could care less of how I came into this world - let alone the care of getting out of here. In general, the nursing home folks look forward to the end of their work weeks paycheck - Especially of those that are of State run ... To reiterate, if you don't have respect - you won't have love - and if you don't have love - you won't have care ... And if you don't have care - who the hell cares, because there will be nothing to share ... You can't call someone a loved one - unless they are loved - I'm just saying ???... Rockford Nursing Homes → http://www.rosenfeldinjurylawyers.com/rockford-nursing-homes.html ...

I've sure had my share of mistakes throughout

my life and it all started out from my mother's womb.

Don L. Johnson